Do you want to find out more about Teaching English in Thailand? Fill out the form below and we'll get back to you!
What is TESOL Extra?
The TESOL Extra Program allows you to complete the theoretical component of the Teaching English to Speakers of Other Languages (TESOL) certification online prior to your departure and then the practical, classroom-based element of the TESOL, as well as your orientation, once you arrive at your destination.
Background
TravelBud's number one priority is, always has been and always will be the safety and well-being of our teacher's abroad. This has been at the forefront of our minds when navigating the pandemic.
We have had to come up with innovative options to ensure we meet our high standards of support and safety; respecting the restrictions of each destination's government, while still allowing teachers to experience meaningful travel, upholding and adapting the elements of our program that make us one of the top teach abroad providers and fulfilling our obligations to our partner schools and their students in achieving high-quality education in English.
This was not always an easy task, but we are very proud to present what we believe to be the best course of action: the TESOL Extra Option.
2021 Innovation Award for TESOL Extra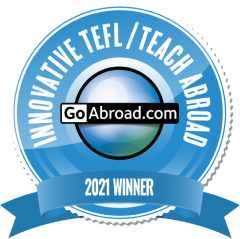 We are honoured to have won the 2021 GoAbroad Innovation Award in the TEFL/Teach Abroad category for our TESOL Extra Program.
This award honors innovative TEFL/TESOL or Teach Abroad Programs that provide a unique opportunity for learning and cultural engagement.
By innovating and adapting to the ever-changing COVID travelscape, we have found ways to continue offering our award-winning programs safely and responsibly despite the pandemic.
With world class training, visa guidance, guaranteed job placement, 24/7 in-country support, and a wholly immersive cultural orientation, we ensure that teachers successfully immerse themselves into new cultures and are fully prepared to provide the highest quality English language education to their students.
Read more about the TESOL Extra Program components below or read the latest  COVID-19 News & Updates →
The Online Component
Teachers enrolling for the TESOL Extra option will select a start date for the 4 week, 120-hour online certification, done prior to their departure for their destination.
This course begins every first Monday of each month and runs for 4 to 5 consecutive weeks.
We understand that while you are still in your home country you may be working full time or completing your degree and this course is designed with that in mind.
It gives you comprehensive guidance on all the aspects of the content and methodologies of teaching English as a second language and touches on the productive and receptive skills for students.
From our experience training and placing more than 2,000 English as a Second Language (ESL) teachers in schools across the world, we've found that the vast majority of online TEFL/TESOL courses are of a sub-standard quality, mainly because:
They offer little interaction with an instructor
There is often no peer interaction with other students
They don't provide a broad range of practical resources/downloads/lesson plans teachers can actually use during their teaching experience
They often don't use modern online learning management platforms, relying instead on information email dumps to students
What students end up with is a piece of paper that has not prepared them to be an
effective teacher.
We provide our teachers with the following:
Years of teacher insights, experience and practical knowledge which has been

refined into a quality internationally accredited curriculum that focuses on preparing students in the best possible way for their teaching or volunteering experience abroad.
Qualified instructors with decades of ESL teaching experience supporting students every step of the way, offering personalized feedback, live one-on-one Skype lesson presentations and practical tips that enable

students to have an enjoyable and effective teaching experience.

A desktop, mobile and tablet optimised platform which adheres to modern best practice Learning Management System (LMS) design and development standards. This ensures a fun and intuitive learning experience for students
The Course Curriculum covers:
Module 1: ESL Theory and Lesson Planning


Knowledge of the history and theoretical development in the field of English language education, and its application to lesson plan structure and content.

Module 2: Teaching Speaking


Techniques, structures and tips for developing creative, engaging speaking lessons for students of all ages and skill levels.

Module 3: Teaching Reading


Strategies, techniques, and creative pathways to developing reading lessons which draw on student interest and push out their language frontiers.

Module 4: Teaching Listening


In-depth knowledge regarding the importance of, and techniques for, teaching pronunciation, as good listening skills will improve speaking, grammar and pronunciation.

Module 5: Teaching Grammar


Comprehensive refresher on grammar topics, as well as strategies, techniques and tips for teaching grammar to all age groups and skill levels, and integration of grammar points in lesson plans.

Module 6: Teaching Classroom Management


Deep understanding of psychological and contextual factors and their impact on the classroom, along with strategies for proactive and reactive approaches to classroom management, and best practices to ensure classroom discipline and engagement.
Each module requires significant practical training focused on the different approaches needed to teach speaking, reading, and listening, as well as various strategies used for classroom management.
Interactive Forums
The course offers mandatory interaction via forums, peer feedback and one-on-one instructor feedback. This allows you to see multiple perspectives on your assignments as you design fun and creative lessons.
Lesson Plan Assignments
You will submit lesson plans based on templates that we know work effectively in the classroom. These templates, along with resources for various classroom activities such as warmers, provide you with a practical toolkit for your teaching experience.
High Quality Video Tutorials
The course makes extensive use of video tutorials which includes footage of real classroom scenarios from Thailand, South Korea, Myanmar and Vietnam, and expert advice from Instructors and other English teachers in the field.
Skype Lesson Presentations
Every student also makes a Skype based lesson presentation to their instructor to gain practical teaching experience. Students receive extensive feedback and are given advice on how to improve or what to be aware of in a classroom environment.
Continuous In-Class Support
Our expert instructors support and interact with our students every step of the way and will offer tons of tips, tricks, and examples of how to teach English to every age group.
Best Practice Learning Management
H on fast, secure servers, the learning platform is mobile and tablet optimised and adheres to modern best practice Learning Management System (LMS) design and development standards. This ensures a fun and effective learning experience for students.
The Practical Component
After completing the online, theoretical portion that constitutes 120 hours of TEFL training, you then complete the classroom-based practicum once in your destination that will make up another 40 hours.
Thereafter, you will graduate with a 160-hour in-class TEFL.
The practicum allows you to build on your theoretical skills and roll them out in real life.
During the in-country practical, yourself and your assigned TEFL partner (so you're not alone in front of the classroom for the very first time) will be given several classes throughout the week of varying age groups, proficiency levels and types of lessons.
For example, your first group might be 10 year-olds, beginner level, reading lesson.
Your second class may be 16 year-olds, intermediate level, speaking lesson.
You will have 4-5 lessons that need to be prepared and delivered throughout the practical week.
You will need to plan these lessons, prepare your handouts and resources, deliver the lesson and then get feedback from the TESOL instructor as well as fellow teachers that are in the classroom with you.
Apart from the in-class guided training, you will also have other practical classes and workshops with your instructor to fine-tune your theoretical knowledge in a more practical way.

The practical classes and workshops are exceptionally valuable in helping you truly experience what it feels like to stand in front of a classroom, prepare you for all kinds of teaching environments and requirements and ultimately, experience the joy of teaching in reality!
Internationally Accredited Certification
Once you have completed both the theoretical and practical components, you will be the proud graduate of a 160-hour internationally accredited certificate.
This is

classified as an in-class certification

, even though a portion was done online. 

The in-class certificate is

recognized as Level 5 by UK standards.

This certificate is

internationally accredited

and can be used around the world and not solely in the destination you are placed in.

This Certificate

does not expire.

You have it for life. 

When doing our TESOL certification, you will receive:

The Certification diploma itself
You receive an internationally accredited certificate for 160-hour TEFL accredited by the Online TEFL and TESOL Standards Agency (OTTSA).
A Letter of Recommendation
You will receive a signed letter of recommendation from our Director of Education. A personalized recommendation assures future employers of your reliability and assists you in securing a job.
A personalized Grade book
You will receive a personalized Grade Report PDF which summarizes and presents all weekly assignment grades with personalized feedback to create a complete portfolio of all of the feedback you receive from the course.
A digital 202 page PDF coursework book
You will receive a 202 page course workbook and comprehensive resources, downloads, lesson templates and printable graphics they can use for their teach abroad experience.
Benefits of TESOL Extra
This TESOL Extra is an enhanced TESOL, as opposed to a watered-down version. You graduate with more hours than our regular course and with its classification of "in-class", you will graduate with one of the most highly regarded TESOL types in the world.
While doing the theoretical component online, you are maximising your ability to continue saving and preparing in your home country for your journey.
The budget required in-country prior to your first paycheck is similar to what is required for the in-country option. It will be less if the quarantine falls away, as you will only need two weeks and 1 month's worth of living expenses, rather than a full two months, without compromising the value of your certificate and your education in ESL.
You still receive all the benefits of the in-country experience through the networking and forging of friendships over the orientation and practical experience, being with other teachers from around the world that are starting out just like you.
You will know your placement location and contract details prior to your departure. This is a unique benefit borne out of the pre-placement adaptation to the visas with travel restrictions in place, where normally you would only know your placement once you arrive in-country, during the 4-week course. Now you can know all the juicy details about your placement before you even set foot in your destination!
The payment breakdown is in smaller increments, so you do not need to pay the final fee in a lump sum, but rather at various stages of the process as the steps unfold which makes it more manageable.
Fees
The TESOL Extra costs are the same as the cost of the full 4-week course listed on our website, but it is broken down differently in terms of when the payments are made.
Currency Converter
Change to your currency. Default prices in US Dollar (USD). Please take note that the amount reflected above is based on the current exchange rate and may fluctuate due to exchange rate volatility on the day of being invoiced.
4 Week In-country TEFL/TESOL Program

TESOL Extra Program

Enrollment Fee and Support

$550


Payable once you have completed your full application and consultation with your coordinator, and your application has been accepted by the Placement and Admissions Team (which guarantees your placement at one of our vetted and selected partner schools).

This initial payment secures your spot in the program that has a finite number of positions and gets the process started with our friendly and highly skilled Support and Placement teams.

Enrollment Fee and Support

$550


Payable once you have completed your full application and consultation with your coordinator, and your application has been accepted by the Placement and Admissions Team (which guarantees your placement at one of our vetted and selected partner schools).

This initial payment secures your spot in the program that has a finite number of positions and gets the process started with our friendly and highly skilled Support and Placement teams.

In-class TEFL/TESOL Course, Guaranteed Job Placement, Orientation and 24/7 Support

$1800


This covers the 120-hour in-class TEFL/TESOL course. We also guarantee you a job placement so you can start earning straight away.

Due 8 weeks prior to your course start date.

Online TEFL/TESOL course

$700


This covers the full 160-hour in-class TEFL/TESOL course, for both the theory and the in-country practical.

Due 1 week prior to the start date you select for the Online TEFL course (every first Monday of the month).

Guaranteed Job Placement and 24/7 Support

$1100


Due upon receipt of your official contract offer letter (generally 4-8 weeks prior to your departure)

TOTAL:

$2350

TOTAL:

$2350
Thailand TESOL Extra
Thailand is making great strides in terms of opening up for foreigners. We have successfully had many teachers arrive in Thailand through the TESOL Extra option.
Quarantine
Thailand continues to open up, most teachers are teaching in-class, cases are down, and demand for teachers is strong. The Thai government has been pushing to open up further to travelers.
Quarantine is now only 1 day at a private hotel for all people except for South Africans, who have to do a sandbox of 7 days in Phuket.
After a brief setback in terms of entry policies, the Thai government recently announced that starting February 1st 2022, they will go back to the one day quarantine "Test and Go" program. 
Below are some of the activities that we have included for teachers who have completed the quarantine in Bangkok:
Thai language lessons
Thai culture lessons
Morning meditations
Placement meetings
Weekend check-ins
Happy teacher workshop
Zoom trivia night
Read more about some of our teacher's experiences quarantining in Bangkok →
Start dates
Chat to our friendly enrolmnet coordinators about the latest available intake dates. 
Fees
Refer to the Fees section outlined above.
Vietnam TESOL Extra
We are currently bringing teachers into the country for placement and TESOL Extra programs.
As of January 1st, all fully-vaccinated travelers entering Vietnam only need to quarantine for 3 days! This is a huge step in the right direction for Vietnam. They will then need to self-monitor for 11 days afterwards, but will be allowed to be out in the general population rather than self-isolating at home..
We are not at the point yet where we are able to do full in-class TESOL courses but we hope to get there by the 2nd quarter of 2022.
Top schools that we are partnered with in Vietnam are very discerning around the courses they accept and generally accept only courses done fully in-class with an instructor.
Luckily, our TESOL Extra Option is classified as an in-class TESOL and thus will allow you the full range of placement options at our partner schools, with no limitations. 
Quarantine
Schools cover the cost of quarantine in most cases, but we do want to be transparent with teachers and let them know that this may not always be the case and that you would need to budget for quarantine to be safe.
Start Dates
In terms of arrival dates, this would be on a rolling basis.
So you would enrol, get all your documents underway, then receive the contract from our partner school that would stipulate a contract start date, whilst still in your home country.
Chat to our friendly enrolment coordinators about the latest available intake dates.
Fees
Refer to the Fees section outlined above.
We'll guide you every step of the way
Here's how we help
Everything explained clearly. We'll walk you through each step and make sure you're prepared.
We help you plan. From what to pack to what documents to gather when.
Guaranteed job placement. We place you in carefully selected and reputable schools.
Accredited TEFL/TESOL Certification We provide the essential courses to help you succeed abroad.
24/7 support. Once you arrive in your destination we've got your back in an emergency or to answer any questions.